When CDA members asked for additional support for competing in California's dynamic market, CDA heard them loud and clear. It's why they created The Dentists Supply Company as a new subsidiary focused on helping members reduce overhead and gain control. It's also why CDA designed tdsc.com as a way to leverage the strength of their large membership to secure exceptional dental supply savings for your practice.
As a benefit included in CDA membership, access to tdsc.com provides significant savings by leveraging members' collective purchasing power. Save an average of 20%* on 25,000+ dental supplies for your own practice through a single, convenient site. And, every time you place an order, know that you're not only helping your own practice save on supplies, you're saying yes to changing the business side of dentistry for the better.
The Dentists Supply Company (TDSC) leverages collective purchasing power to attain better supply pricing for practices of every size. Save on dental supplies from authorized vendors through a single, convenient site. See significant discounts, plus free shipping as a benefit included in dental association membership.
The Dentists Supply Company is now available in 47 states, offering consistent and competitive supply pricing to more than 100,000 members of organized dentistry. More shoppers means more savings for practices of every size. And association members are enthusiastically sharing how consistent supply pricing, 24/7 online shopping convenience and authorized product sourcing have made tdsc.com one of their favorite ways to shop.
With The Dentists Supply Company's expansion this year, members of organized dentistry nationwide are enjoying the benefits of collective buying power. Through tdsc.com, shoppers continue to see 20% average savings compared to MSRP* on dental supplies and small equipment. However, the online savings are often even greater when compared to the prices shoppers have been paying other suppliers.
Through its free price comparison service, the TDSC team analyzes shoppers' invoices from other major suppliers to find product-by-product savings potential on their behalf. Practices in 47 states can now see how tdsc.com prices stack up to the actual prices they've been paying elsewhere.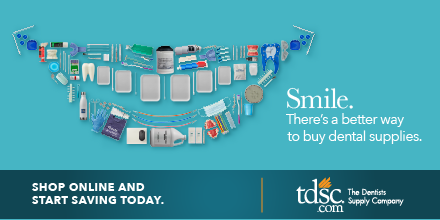 With dental supplies trending at 6% to 8% of collections, a practice with $800,000 in income spends approximately $52,000 per year. Reducing supply costs by 20% could result in annual savings of at least $10,000. And at the higher rates demonstrated in these case studies, a practice's annual tdsc.com savings could be in the tens of thousands for the same quality products from authorized sources.
Along with saving substantially, dentists can be confident that every product on the site is from a trusted, authorized source. "My supplies went from 5% of my overhead to 3.3%," said Lindsay Compton, DDS, of Arvada, Colorado. "I'm thrilled that I can use name-brand materials, still save money and not sacrifice quality."
See how your current invoices compare. Request a free, personalized price comparison from the TDSC team at tdsc.com/pricecompare.*
* Price comparisons are made to the manufacturer's list price. Actual savings will vary on a product-by-product basis.